With an estimated 25% of the population in the UK owning a dog (us included, we have 2!). It's important that our furry friends are able to join our guests on their adventures.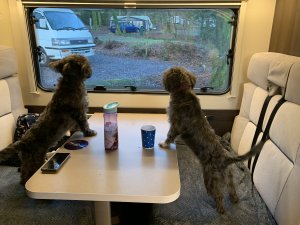 North Wales is a very dog friendly place. Since getting our two pups, Minnie and Mickey, in September 2018 our lives have been transformed. We have met many a people whilst out with the doggies, some who have now become friends through our love of dogs! We understand the importance of planning holidays where all the family, including the doggies can enjoy the adventures, exploring and relaxing together.
Anglesey Holidays is a pet friendly company, we allow four legged friends to join you in both our luxury properties and we have pet friendly motorhomes available, so all the family can have fun and make special memories together.
Our pups love nothing more than going for a long walk exploring new places around North Wales, and then collapsing back in the comfort of a cosy motorhome and resting their tired paws.
Eating out with dogs in tow.
From our experience we have never struggled to find places that serve decent food with the dogs in tow and have only come across a handful where they aren't allowed in. Most pubs are dog friendly, some have special dog friendly areas, some are super welcoming with treats on hand!
A lot of the high end restaurants don't allow dogs so it's worth checking first.
Days out with doggies.
Where do I start??? There's soooo many places that our pups love!
A few of our favourites are:
Newborough forest beach, dogs can't fail to love it here, a lovely long beach and a huge forest to explore!
Pentraeth beach, a vast sandy beach where they can run free and burn off some energy. Make sure you check tide times first- www.thebeachguide.co.uk/north-wales/anglesey/pentraeth-weather.htm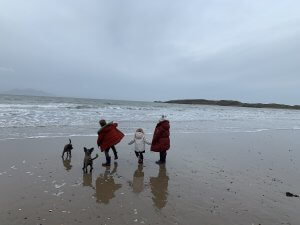 Greenwood Forest Park- a perfect day out for all the family, dogs included.
Plas Newydd- a National Trust country house set in stunning gardens, parkland and surrounding woodland on the north bank of the Menai Strait- https://www.nationaltrust.org.uk/plas-newydd-country-house-and-gardens/features/plas-newydd-dog-route-extended
Dog restrictions- it's worth noting that there are dog restrictions on some beaches around North Wales, there's plenty to enjoy that don't have any restrictions though.
They usually run from 1st May -30th September.
If you fancy visiting the beautiful beaches and coastline around North Wales its worth checking if there are any restrictions before you had out.
Gwynedd- www.thebeachguide.co.uk/north-wales/gwynedd/dogs-allowed
Anglesey- www.anglesey.gov.uk/en/Residents/Pests-pollution-dogs-and-food-safety/Dog-control/Dog-restrictions-on-Angleseys-beaches.aspx
If you fancy visiting Portmeirion, the enchanting Italian style village, bare in mind that dogs aren't allowed.
If you are heading out for the day and are worried about leaving your four legged friends we can recommend local pet sitters and dog walkers who will take care of the furry members of the family while you are out.
During peak seasons they have very limited availability and book up early so please get in touch if you wish to discuss this option.
Campsites and dogs
Many campsites are dog friendly, some even have designated dog walking areas. Some charge an additional fee so check before you book. The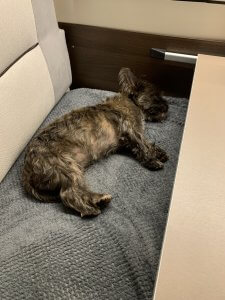 rules about dogs are virtually the same for all campsites- -dogs must be kept on leads around the campsite at all times.
-always clean up your dogs mess.
-keep dogs away from livestock.
– some campsites insist that dogs aren't left unaccompanied if you are out.
When booking via out online booking form on our website www.angleseyholidays.wales there is the option of adding your pets to the booking.